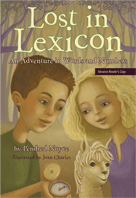 Lost in Lexicon: an Adventure in Words and Numbers
When thirteen-year-old cousins Ivan and Daphne go on a treasure hunt one rainy summer day, they never expect to stumble into a whole new world where words and numbers run wild. After they outwit a plague of marauding punctuation, grateful villagers beg them to find Lexicon's missing children, who have wandered off, lured by dancing lights in the sky.
Trekking between villages in search of clues, the cousins encounter a talking thesaurus, a fog of forgetting, the Mistress of Metaphor, a panel of poets, feuding parts of speech, and the illogical mathematicians of Irrationality. When a careless Mathemystical reflects them across the border into the ominous Land of Night, their peril deepens.
Kidnapped, imprisoned, and mesmerized—with time running out—will Daphne and Ivan find a way to solve the mystery of the lights in the sky and restore the lost children of Lexicon to their homes?

Click here for a preview of the book.

The Ice Castle (coming in 2011)

Their return to Lexicon is not all Ivan and Daphne imagined. For one thing, Aunt Adelaide is deathly ill. For another, their musical younger cousin Lila has stumbled into their secret country.
Instead of rejoining old friends in the Land of Morning, Ivan and Daphne find themselves tracing Lila through a wintry landscape where all that matters is how well a person sings. Sorted by musical talent and consigned to different lives, the cousins face cold, illness, injustice, and attempted murder. Slave, servant, or fine lady, each has to escape a kind of imprisonment before they can find one another, foment a revolution, and restore spring to the Land of Winter.